PRODUCT FORMULATION AND TECHNICAL INFO

Both supplements were manufactured in the UK with highest possible quality assurance as required by the national Ethical Trials committee – This level of quality assurance far exceeds standard supplement standards. Both manufactures or fully GMP and HACCP approved
---
Phyto-V
---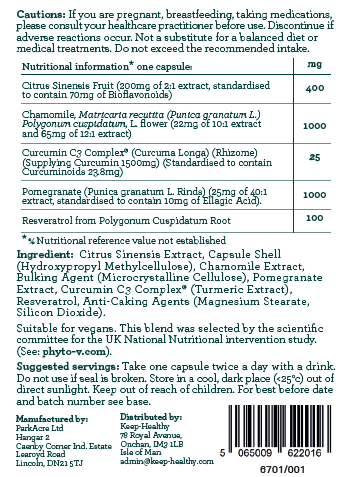 530mg
Capsule Size: HPMC Size 0 Veg
Citrus Sinensis fruit (400mg from 200mg of 2:1 extract, standardised to contain 70mg of Bioflavonoids).
Chamomile, Matricaria recutita L. flower) (1000mg from 22mg of 10:1 extract and 65mg of 12:1 extract).
Curcuma Longa rhizome in Curcumin Complex (1600mg of curcumin from 25mg of 64:1 extract, standardised to contain 23.8mg of curcuminoid).
Pomegranate (Punica granatum L. rinds and seeds) (1000mg from 25mg of 40:1 extract, standardised to contain 10mg of Ellagic Acid).
Polygonum cuspidatum root containing 100mg of resveratrol.
Vegan Capsule Shell (Hydroxypropyl Methylcellulose)
Inert bulking and anti-caking agents: Magnesium Stearate, Silicon Dioxide.
---
Yourgutplus+ 
---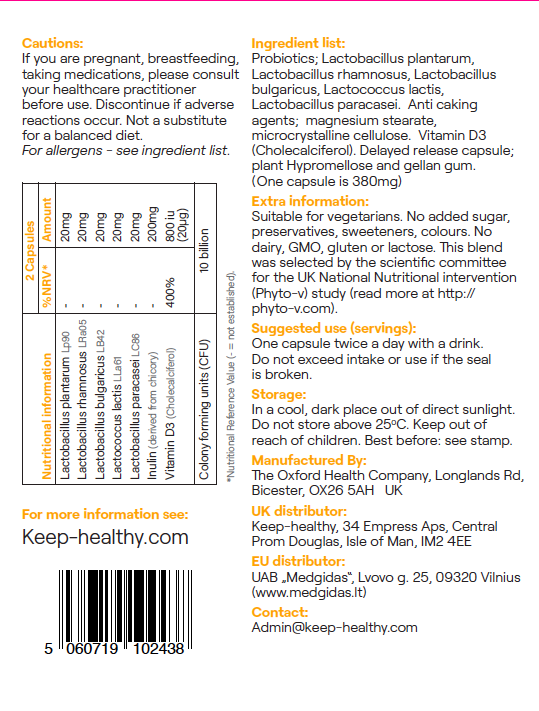 The daily dose (for two capsules, daily serving)
Prebiotic – 200mg of inulin
Probiotics – 10 billion colony forming units (CFU's):
Lactobacillus plantarum,
Lactobacillus rhamnosus,
Lactobacillus bulgaricus,
Lactococcus lactis
Lactobacillus paracasei.
Vitamin D3: 800 iu
Delayed release vegan capsule –   hypromellose and gellan.